Follow the
Tiger Trail
Taking a fresh look at the requirements of the bulk liner user, Tiger Bulk Systems Ltd have entered into the manufacturing of polyethylene road and sea container liners for the bulk transportation of dry granules and powders, ensuring total product security, free from risk of contamination.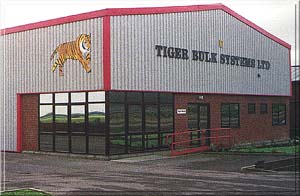 Drawing on many collective years experience gained in the manufacture of polyethylene liners, we feel confident we can offer not just a liner, but a complete service designed to meet quality expectations and an ability to react quickly to changes in individual customer requirements. All this with the secure knowledge that we really care about our customers and our products and take great pride in the service that we offer.
Obviously, in order to meet the exacting demands of the modern business environment, we have gone to great lengths to secure top quality raw materials from approved suppliers, yet remain extremely competitive when pricing our finished products.
Operating from new premises at Bridlington, in the county of East Yorkshire, England, we have created a modern manufacturing works for the production of 20', 30' and 40' food grade container liners.
---
Tiger Bulk Systems Ltd
Carnaby Industrial Estate, Bridlington
East Yorkshire, YO15 3QY, England
Telephone: +44 (0) 1262 675225
Facsimile: +44 (0) 1262 675226
email: sales@tigerbulk.com